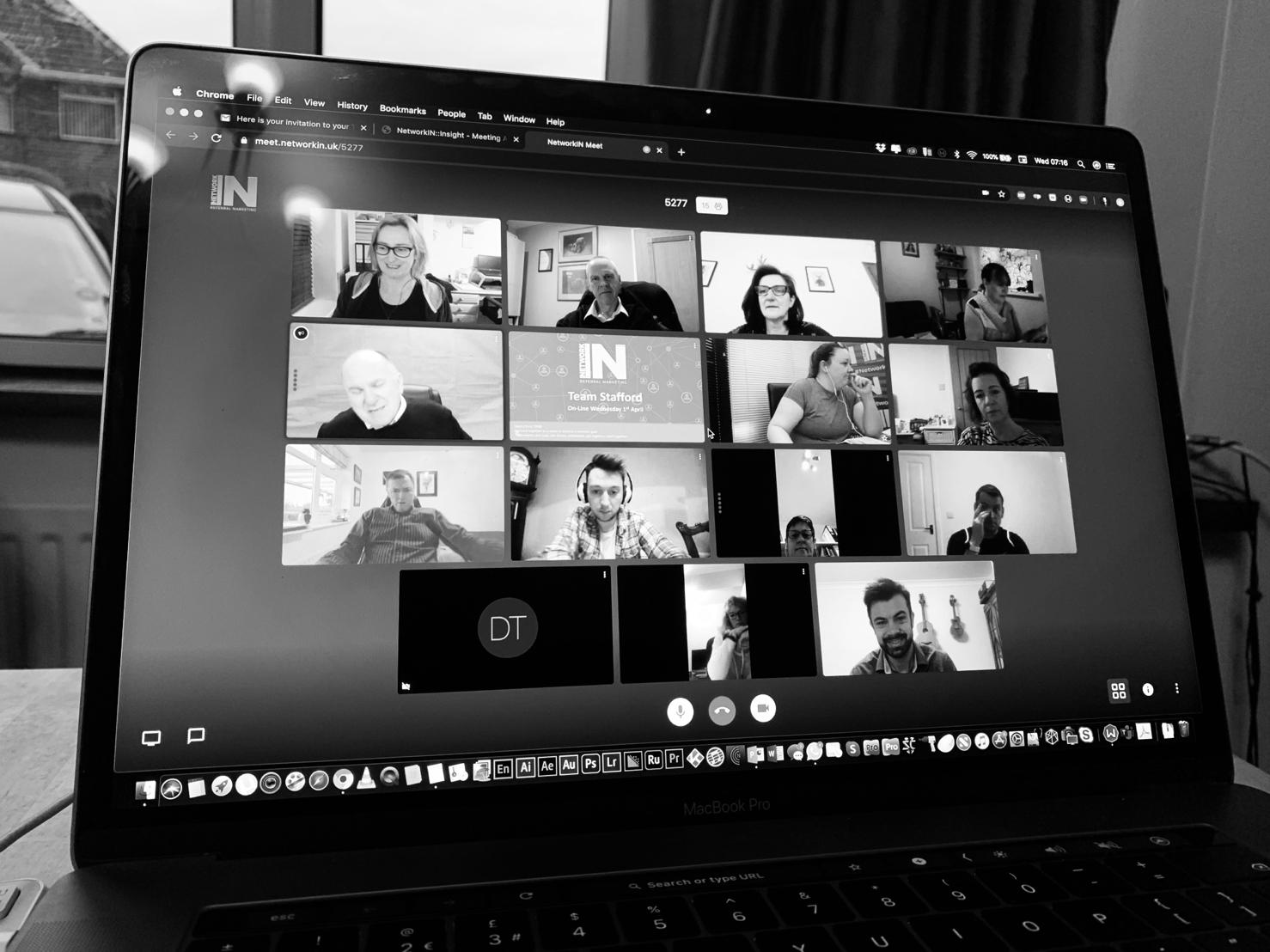 10 Apr

Keep connected to your business community – here's what you need to join a NetworkIN online meeting
We're all managing the Covid-19 turbulence as best we can and as a small business or sole trader, it's a critical time to stay connected to your networking contacts and continue to build professional links. 
Join NetworkIN online – we're thriving 
NetworkIN offers referral marketing in an online world to ensure that people are still united to be able to support each other, share best practice and develop new skills and processes to allow us to keep our businesses afloat in these extraordinary times. And so far, it's going well (as well as it can do).
We're seeing advocates go from strength to strength by collaborating, upskilling, adding value, passing business or just offering a listening ear and words of encouragement. 
What do I need to participate in NetworkIN online?
First of all, hop over to the teams page and browse our Staffordshire and Cheshire meetings – there will be a link at the end of this article. You can then pop back to this page once you've booked onto a meeting.
Virtual meeting rooms have been set up for each meeting and we have invested in new technology to offer free access to all advocates and guests.
What to do prior to attending your virtual meeting
Virtual meetings work best if accessed from a laptop or desktop computer. You will be able to see and hear your fellow advocates more clearly and they will be able to see and hear you more clearly. 
Not everyone has a laptop or desktop computer so if this is you, an app is available to access the meetings from a mobile and tablet – just click here to download it. Once you have booked a meeting you will receive an explanatory email and an access link.
Think about who you could invite along to the meeting. Who is delivering the Business Bulletin and Learning Point? Do you know someone that could help them or collaborate with them? Send them an invitation to experience NetworkIN.
Stone Ladies Team Leader Jane Jackson from Just Mortgages has put together this handy list of tips to consider when preparing for a NetworkIN online meeting.
Things to consider before the meeting
Choose where you are going to sit for the meeting, considerations should include

The best place for a wifi signal

Video calling uses a lot of power so you may need to plug your device into the mains

If you are using a tablet or phone find somewhere to prop it up (holding it for a couple of hours will give you arm ache and will prevent you from taking notes)

Find a hard surface to rest your laptop or tablet on as it will get warm and may overheat if left on a soft surface

Background – what are people going to see behind you? Do you have a company banner, logo or poster to position in the background?

Make sure your face is clear on the screen. Adjust your chair height or monitor position

Prepare – NetworkIN has a virtual practice meeting room that you can access as a dress rehearsal so you know what to expect before a meeting – contact us to try it out

If you have a headset, earphones or a microphone, check that they work and that there is no feedback. Some external speakers can distort the noise. Test your devices in the practice room

Minute Message – when it's your turn to speak, all other participants will see you on their main screen (you won't see yourself) so make sure you have prepared material to deliver
Business Bulletin – prepare this as you would for a physical meeting – your slides and/or videos will need to be ready to share. You can share your screen during a meeting or send to a Team Leader at least 24 hours prior to a meeting
Learning point – as above 
Dress – NetworkIN online is still a business meeting and you should treat it as such. Think about your hair, makeup, and top half of your attire. Remember, no PJ bottoms just in case you stand up!
Refreshments – be sure to prepare a glass of water or a hot drink. Better still, have two cups – there's nothing worse than a coughing fit!
Even if you feel ill or are a furloughed staff member, please remember that you can still attend even if you can't deliver a Minute Message. During this time of isolation the meetings more resonance, but because we are isolated it's more difficult to build strong relationships, and the ones that have been built need to be nurtured.  
During a meeting
The virtual meeting room will be open fifteen minutes prior to the meeting start. Feel free to arrive early and take advantage of online networking prior to the structured session. Your mic and camera will be switched on when you enter the meeting.
Be aware that everyone cannot speak at once and it can get confusing. Ideally, mute your mic until it's your turn to talk

Don't keep asking if people can hear you – they will tell you if they can't

Familiarise yourself with the control buttons that are in the bottom middle of your screen

The microphone symbol is on the left. Click it once and you mute the mic (you will see a line through it). Click it again and you are audible

The camera symbol is on the right. Click it once and your camera will switch off. Press again and you are visible 

Hand signals are great, here are a few to use:

Thumbs up

Silent clapping! Real clapping may distort the sound and you and other advocates will miss valuable conversation

Waving

Put your hand up if you want to speak! It's a bit school-esque but it's the easiest way for the meeting Coordinator to bring people in to contribute

Keep your Minute Message to a minute – preparation! 

Business Bulletin – keep it to the allotted eight minutes presentation and two minutes of questions

Learning Point – this should be no more than three minutes

Inputs and Feedback are both now even more important parts of the meeting as people need support in many different ways and we need to be prepared to meet these needs

If you have anything you would like to raise as 'any other business' during the meeting, please let your Team Leader know before the meeting for it to be included

If there is extra time at the end of the meeting structure this can be used for additional networking and support time
After the meeting
The virtual meeting room will stay open until the last person clicks the red button (bottom of your screen, middle icon) to leave.
1-2-1s will need to be followed up and arranged away from the team meeting. Advocates have access to the online platform for 1-2-1 meetings. Please contact a member of NetworkIN HQ to confirm your access link if you haven't already been issued with one.
STAY SAFE AND WELL