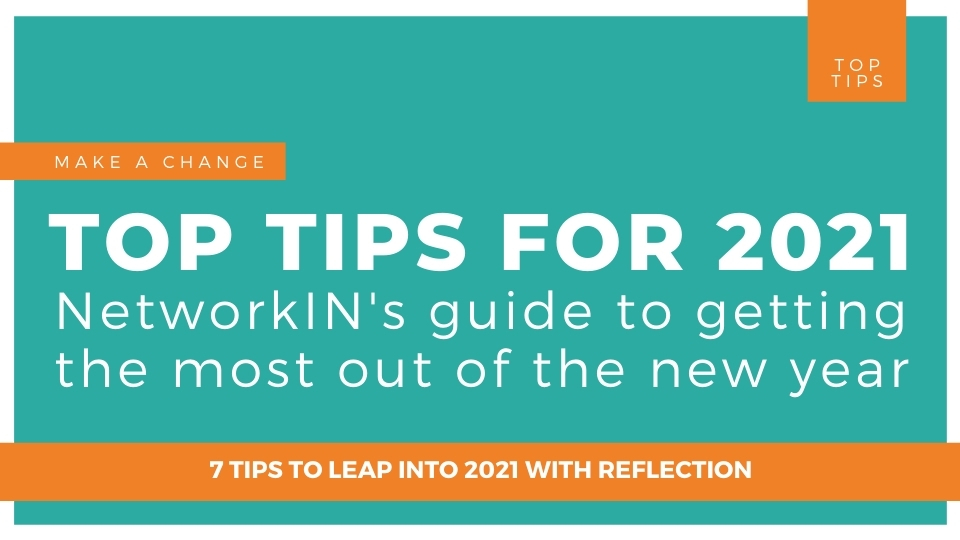 16 Nov

Happy New Year – Celebrate what you want to see more of

After everything that's happened throughout 2020 let's focus on the positives of a new year and bring forward a time in the business calendar when you plan for change.

"Life is change. Growth is optional. Choose wisely." Karen Kaiser Clark
The New Year is typically a time of evaluation
Now is a great time to revisit what you want out of a career, to renew your goals and become inspired once again. Use the time effectively to plan, refine and even eliminate what hasn't been working – is it time for a change?
Leap into 2021 with reflection
In honour of the NetworkIN 'together we are stronger' ethos, we say let's freshen things up a bit and help each other to get back on track.
Times are challenging but you are resilient and 'for the sake of old times' (or Auld Lang Syne) take what you have experienced and learnt from 2020 and use it to your advantage to effectively plan for 2021.
Here are the NetworkIN top tips to getting the most out of 2021.
1. Book your business in for a financial health check
An undulating cash flow can cause real problems for a business of any size and many people need all the help they can get to ride the impact of Covid-19. But do you really know what you're paying out for?
Assess your expenses – what do you need, what can be reduced and what can cease?
Stay up to date with financial forecasting – what does your cash flow need to look like and the financial health of the business?
Review your prices – can you increase your fees, do you cost for admin and resources, and can you streamline processes that cost time and money?
Evaluate funding options available for your business type, size or location
2. Check in with your clients
Now is a great time to communicate with existing clients to see how you're performing and to build stronger relationships. It costs far less to keep existing clients than it does to gain new ones so why not send a quick survey, make a phone call or schedule an online video chat to say hi and ask for feedback.
What can you do better?
What frustrations do they have?
What are you incredible at – why did they choose you in the first place and continue to work with you?
Who do they know that could also benefit from your products or services?
3. Focus and clear distractions
There's no such thing as multi-tasking and flitting between a multitude of emails, project tasks, social media, phone calls and meetings can be the start of feeling somewhat overwhelmed.
Eliminate distractions – turn off social media notifications and emails for set periods of time
Fill up your diary with set tasks – and include your own business as a client to work on
Use online business tools or apps to manage your time better or to create processes that help you become more productive
Put a 'do not disturb' notice on your door – at the home office or in the workplace
4. Outline your 2021 marketing efforts
If you don't put yourself out there how can potential clients find you?
Spending time crafting your why in business and sharing it with your ideal clients is a continuous effort and you need effective ways to stand out from the crowd now more than ever.
Where are your clients?
How do you reach them – what marketing channels can you use?
Can you use email, social media, online or offline press media, networking, loyalty schemes, leaflets, adverts etc?
What do you say once you've found your clients?
And how do you keep them?
Research and budget for all options before settling on a way forward
2020 has taught us to plan for different scenarios, so an annual plan will no longer be effective. Your marketing needs to be adaptable, different and to use the age-old acronym … SMART.
5. What's new?
Think about what's changed over the past 12 months. Has your business evolved? Or have you evolved as the leader of your company?
Should products and services diversify based on customer demand or market change?
Are there issues that need to align with your business better in 2021, such as corporate social responsibility and sustainability?
Can your office go paperless, get involved in a recycling initiative, award a charity of the year or give back to the community in some way?
Make the most of your strengths – can you expand your offering or diversify where business may have been lost?
6. Look after your team
2020 has been tough for everyone for many different reasons. If your business employs staff or works in association with others, how can you make the loyalty stronger? Can you review:
Staff training
Incentive schemes
Additional support from HR or health and wellbeing initiatives
7. Look after yourself
Stress is not to be diced with, so get good at spotting when you are feeling the pressure and do what's right for you. Learn to listen to your gut and make changes before it becomes too late.
Take a break
Take a holiday – even if it's a staycation
Talk to someone
Learn to delegate
Celebrate your successes
Accept challenges and move on
Ignore your inner critic – you've got this
You're here already – use NetworkIN to your advantage
Finally, seek out new opportunities by being proactive because you never know where they may hide.
As a NetworkIN advocate you have the benefit of exploring any team meeting within our referral marketing community across Staffordshire, Cheshire and now Lancashire so long as your sector is not taken.
Take a look at the existing advocates and book your meetings today – why wait?
Book onto one of the many training events that are now ongoing in the NetworkIN calendar to Get Results, map out your 90-Day Plan, or refresh essential steps with New Advocate Induction.
Remember, each new year starts with 365 blank pages – write a good one.
We'd love to hear what you have planned for 2021, so drop a sentence in the comments and let us know your number one goal.