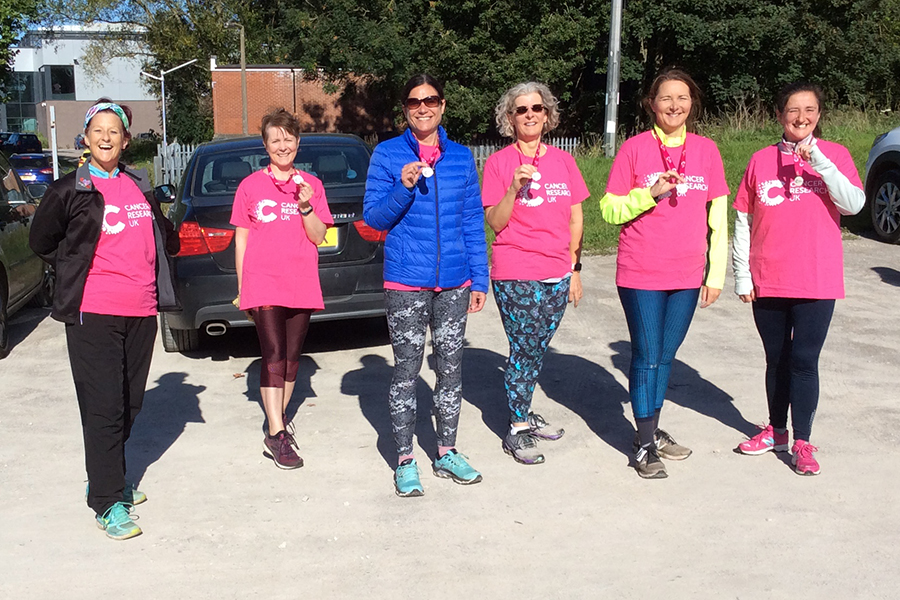 09 Oct

Stone Ladies rally together for Cancer Research's Race for Life to raise over £2,200

On Saturday, 26th September, several advocates from the Stone Ladies NetworkIN team met to participate in the annual Race for Life.

The 5km event is part of Cancer Research UK's fundraising efforts to help raise money for research into all 200 types of cancer.
Entering due to experience
Advocate Sarah Reynolds of Whitedove Wills and Estate Planning suggested the idea to take part in the event at one of the virtual Stone Ladies NetworkIN meetings in August.
"I was diagnosed with breast cancer earlier this year and underwent treatment throughout lockdown. Even though I frequently participated in Race for Life events, this year's race was more poignant than ever as I was looked after very well by the treatment team at the NHS.
"I wanted to give something bigger and better back this year and being part of the Stone Ladies NetworkIN team with Cancer Research UK fundraiser Ada Haywood (BEM) as a fellow advocate it just seemed right thing to do." Sarah Reynolds.
Mapping a socially distanced course
Prior to the day, Sarah plotted a 5km Covid-19 safe route starting at the Stone scout hut where nine NetworkIN advocates and some supporters met.
Participants split into two groups – walkers and runners – and took in the beautiful scenery and glorious sunshine along the canal, looping round Aston Marina and back again.
Walkers included Jane Jackson, Lisa Russell and Ada Haywood, while the runners included Sarah Reynolds, Dawn McGovern, Jo Coombes, Becky Hammond, Marie Halls and Alison Bradford.
A special mention to Jemma Hancock who was unable to join the race at the last minute due to work commitments but still raised vital funds.
Each participant ran in a Cancer Research T-shirt and was presented with a medal at the end of the race.
Over £2,200 raised
Advocates Becky Hammond and Jo Coombes had never run before and coincidently had both been looking for a reason to start the Couch to 5K campaign. The moment Sarah mentioned the event they both jumped at the chance to participate.
"I wanted to start running about 3 years ago to get in shape before the big 50! I managed to get to week 5 of couch to 5K and suffered a heart attack. This was the first set back. On recovery it made me more determined but again it didn't go to plan. A reoccurring back problem stopped me in my tracks at week 5 … again.
"After seeing a chiropractor, I was able to run again, then Covid-19 struck and I was ill for about 7 weeks with suspected coronavirus, although not confirmed. I felt defeated and decided that running wasn't for me but when Sarah mentioned running the Race for Life my mouth opened and I said, 'I'm doing it!'
"I started at week 4 of the Couch to 5k and pushed myself, getting up at 6am with my Labrador Rose and running every other day. I finally got to 5km on the Thursday night before the Race for Life on the Saturday morning.
"On the morning of the run I was nervous and had butterflies. This was a massive achievement for me as I had given up so many times and I cannot explain how emotional and thrilled I was to have run 5km.
"The girls at Stone Ladies have given me the determination and support to keep going. I am now still running every other day and have the fittest dog in Tean!  I can run 5km comfortably and will be completing the Manchester Marathon over the month of March." Becky Hammond.
Running is a great activity as the exercise releases natural endorphins, your body's very own feel-good vibes. Regular running and walking are also good to help with mental clarity, improving blood flow and helping to keep a level-head.

Race for Life in support for Cancer Research UK
The Race for Life 5k is a series of over 150 routes around the country that give people of all ages, backgrounds and abilities the chance to come together and show cancer who's boss. They're not races, or runs, and everyone wins the Race for Life (except cancer).
Cancer Research UK is the world's largest charity dedicated to saving lives through research into this deadly disease with a vision to develop a cure for all cancers.